Navratri means "9 nights". There are four such periods in a year that are celebrated by Hindus. Sharad Navaratri is the most famous of all. It's also called Maha Navaratri. It is commonly celebrated during the Indian month of Ashvina that commences from the first day of the lunar fortnight. As per the English calendar, it usually falls in the months of September and October.
Meaning of Navaratri
The term "Navaratri" means nine nights. It is a period of nine nights and ten days that is very sacred for Hindus across the globe. It's one of the most celebrated Hindu festivals, a festival of worship, music, dance and learning. Nine forms of Adiparashakti are worshiped in this festival which lasts for nine nights and ten days. Some observe Navratri fast. On the first three days of Navratri, Bhagwati is worshiped as Parvati, on the next three days as Lakshmi and on the last three days as Saraswati. Kalaratri or Kali is worshiped on the seventh day, Durga on Durgashtami, Mahalakshmi on Mahanavami and Mahasaraswati on Vijayadashami.
Another way is to worship Navadurga or the nine aspects of Durga. It starts from Mahagauri and ends at Siddhidatri. Some devotees worship the ten aspects of Parashakti, Dasamahavidyas during these ten days. Starting with Kali, Tara, Chinnamastha, Tripurasundari, Bagalamukhi, Matangi, the tenth day ends with Mahalakshmi or Kamaladevi. In Kerala, Saraswati Puja and initiation of education are important. In connection with this, the Rathotsavam and Vidyarambha at Kollur Mookambika Temple in Karnataka are famous.
Various Types of Navratri
Originally there are five types of Navratri but only three are celebrated now, namely Sarat, Vasantha and Ashada Navaratri.
Sarat (Sharad) Navratri
Sarat Navratri is celebrated during the season of Sarat Ritu (September-October), the beginning of winter. It is also called Maha Navratri. It is celebrated to commemorate the slaying of Mahishasura by Goddess Durga. Although celebrated in most parts of India, it is more prominent in Eastern India and Southern India. Some in Northern India celebrate Sarat Navratri to commemorate the death of Bhandasura, while others celebrate Lord Rama's victory over Ravana. Pooja Veppu (or Ayudha pooja) and Vidyarambha are held in conjunction with this.
Vasantha Navratri
Vasantha Navratri festival is celebrated during the spring season (March-April) which marks the beginning of summer. It is celebrated in Northern India. It is celebrated on the occasion of Ram Navami.
Magha Navaratri
Magha Navaratri is observed during the lunar month of Magha (January–February). This Navaratri is also known as Gupt (secret) Navaratri. The fifth day of this festival is often independently observed as Vasant Panchami or Basant Panchami, the official start of spring in the Hindu tradition, wherein goddess Saraswati is revered through arts, music, writing, and kite flying. In some regions, the god of love, Kama is revered.
Ashada Navratri
Ashada Navratri is celebrated in July-August. This festival is very important for devotees of Bhagwati Varahi. Varahi is one of the seven Mothers mentioned in Devi Mahatmya. This is Parashakti itself. It is called Guhya Navratri in Himachal Pradesh.
Navratri fast
Although Navratri can be celebrated in the months of Virgo, Capricorn, Pisces and Gemini, Kanni Navratra is of all importance. Those who are not able to observe 9 days are destined to observe 7, 5, 3 and 1 in order. In Kerala it generally observed for three days (from puja veppu to pooja eduppu). On these days when Shaktyupasana is important, one should study Devi Bhagavatam, Devimahatmya, Kalika Purana, Markanedeya Purana, etc.
Durgashtami
In the evening of this day, work weapons and books are worshipped. Parashakti is worshiped as Durga on that day.
Mahanavami
This is the second day of the Puja when Bhagwati is worshiped as Mahalakshmi, the giver of wealth. According to puranas, Devi Durga's battle against Mahishasura, the king of demons, lasted for nine days. The ninth day is the final day before the Goddess won over the evil with her power and wisdom. So Maha Navami is also considered the eve of starting anything new on Vijaya Dashami.
Vijaya Dashami
Kanya Shuklapaksha Dashami – at the end of Navami night – is observed and celebrated as Vijayadashami. This day is considered important by Kshatriyas as it signifies the success of Durga. The weapons and books that were worshiped on that day are taken back.
Navaratri Pooja and Golu
Navratri is a festival in which the Goddess is decorated and worshiped, from huge kolams to earthen Koch Bommas. In Bengal, large effigies of Goddess Durga are tied up in association with Kali Puja. Bomma Kolu (Golu) is a ritual performed in Southern Indian states such as Tamil Nadu, Karnataka and Andhra Pradesh during Navratri, in which bommas (dolls) of deities are paraded.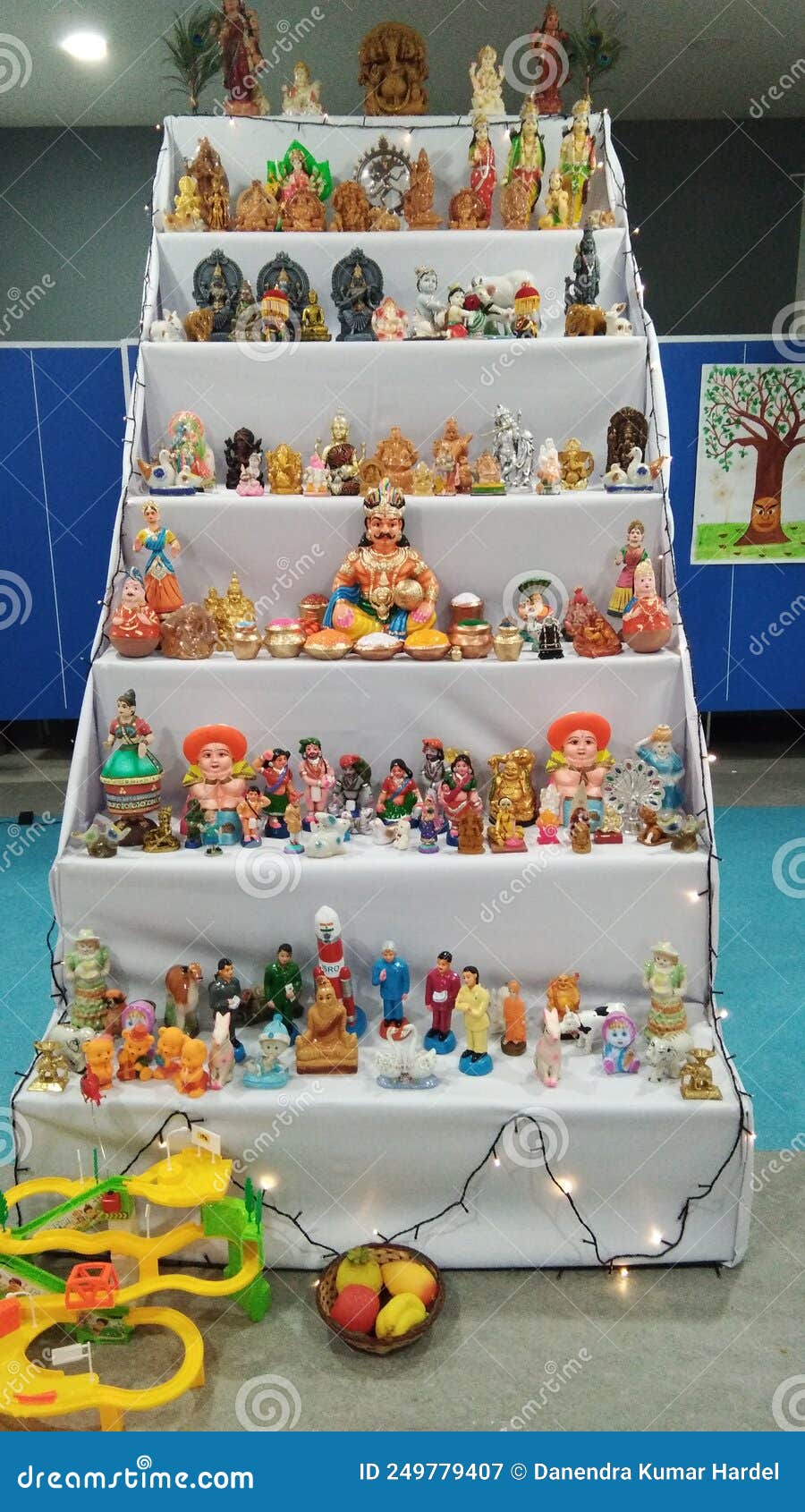 On the first day of Navratri, after Ganapati Puja, the senior member (male/female) of the family performs the Kalashavahana Puja Vidhi for Goddesses Saraswati, Parvati and Lakshmi. After that steps (kolu) are made with wooden sticks. Steps are usually made in odd numbers such as 3, 5, 7, 9 and 11. After spreading a cloth over the steps, the idols of the gods and goddesses are placed on it according to their size and position. Golu dolls typically depict mythological characters and stories.
Navaratri 2022 Dates
Here's the link to Prokerala website, that publishes accurate astrological information that can be referred to obtain authentic festival dates.